Sarah Katz, 21, had a heart condition and was not aware of the drink's caffeine content, which exceeded that of cans of Red Bull and Monster energy drinks combined, according to a legal filing.
An Ivy League student with a heart condition died after drinking Panera Bread's "charged lemonade," a large cup of which contains more caffeine than cans of Red Bull and Monster energy drinks combined, according to a lawsuit.
The legal complaint, which was filed Monday morning in the Philadelphia Court of Common Pleas and was first obtained by NBC News, calls the beverage a "dangerous energy drink" and argues that Panera failed to appropriately warn consumers about its ingredients.
Panera Bread did not immediately respond to a request for comment.
The suit was filed on behalf of the parents of Sarah Katz, a 21-year-old University of Pennsylvania student who had taught CPR in underserved communities and had been a research assistant at a children's hospital. Katz had a heart condition called long QT syndrome type 1 and avoided energy drinks at the recommendation of her doctors, according to the filing.
On Sept. 10, 2022, Katz purchased a charged lemonade from a Panera Bread in Philadelphia, according to the suit. She went into cardiac arrest hours later, said her roommate and close friend, Victoria Rose Conroy.
"She was very, very vigilant about what she needed to do to keep herself safe," Conroy said. "I guarantee if Sarah had known how much caffeine this was, she never would have touched it with a 10-foot pole."
The charged lemonade was "offered side-by-side with all of Panera's non-caffeinated and/or less caffeinated drinks" and was advertised as a "plant-based and clean" beverage that contained as much caffeine as the restaurant's dark roast coffee, according to photos of both the menu and beverage dispensers in the store, which were included in the wrongful death lawsuit.
But at 390 milligrams, the large charged lemonade has more caffeine than any size of Panera's dark roast coffee, the complaint says — numbers that the nutrition facts on Panera's website confirm. The charged lemonade also has guarana extract, another stimulant, as well as the equivalent of nearly 30 teaspoons of sugar, the complaint continues, adding that 390 milligrams of caffeine is higher than the caffeine content of standard cans of Red Bull and Monster energy drinks combined. Katz had gotten the large cup, which is 30 fluid ounces, according to the attorney representing her family.
"I think everyone thinks lemonade is safe. And really, this isn't lemonade at all. It's an energy drink that has lemon flavor," said Elizabeth Crawford, a partner at Philadelphia-based law firm Kline & Specter, PC. "It should have an adequate warning."
The lawsuit alleges the charged lemonade is "defective in design because it is a dangerous energy drink."
"These unregulated beverages include no warning of any potentially dangerous effects, even the life-threatening effects on blood pressure, heart rate, and/or brain function," it says.
Conroy described Katz as an excellent student and "the most involved and passionate person I've ever met," someone who would smile and wave to everyone on campus. She was careful to tell people that she couldn't consume energy drinks and made other modifications for her health condition, but she "never let it stop her from achieving the things that she wanted to do," Conroy said.
Katz had been diagnosed with long QT syndrome at the age of 5, according to Crawford. The American Heart Association describes long QT as a disorder of the heart's electrical system that can cause abnormal heart rhythms as a result of exercise or stress; it can be well-managed with medication.
In addition to medication, Katz's condition was controlled by regular doctor visits, where "everything was always normal," Crawford said.
About 1 in 2,000 people have congenital long QT syndrome, with some showing no symptoms and others fainting or experiencing heart palpitations in response to triggers such as exercise or being startled, said Dr. Charles Berul, an electrophysiologist at Children's National Hospital in Washington.
Berul, who did not treat Katz and is not involved in the lawsuit, said that caffeine is allowable in moderation for long QT patients.
"We tell people not to worry, it's fine to have a Coke or a small coffee each day," said Berul, who is on the board of trustees for the Sudden Arrhythmia Death Syndromes Foundation, an advocacy organization for those with heart rhythm abnormalities.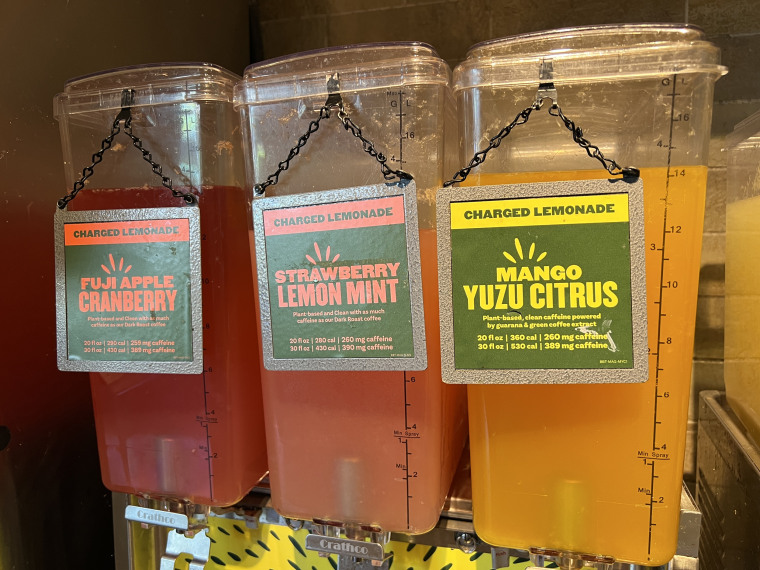 "But some of the smaller studies have shown that energy drinks, drinks that have caffeine plus other ingredients like taurine, other things, might be a little riskier," Berul said.
The lawsuit says Katz purchased an Unlimited Sip Club membership from Panera, which allows customers to pay a monthly fee for unlimited drinks, about a week and a half before her death. Conroy said Katz had bought at least one other charged lemonade in the days prior to her cardiac arrest.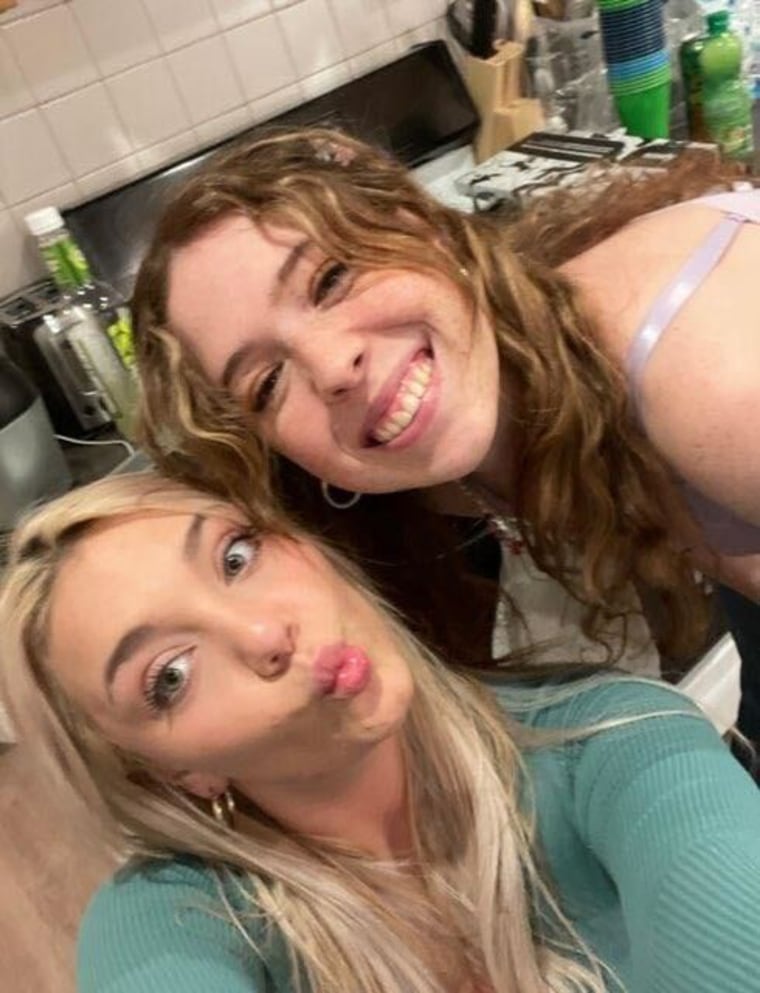 On the day of her death, Katz had purchased a charged lemonade and collapsed several hours later while at a birthday gathering for a friend at a restaurant, Conroy said. Emergency personnel transported her to the hospital, where she had another cardiac arrest, this time fatal, the lawsuit says.
"She was taken from us so soon, and she shouldn't have been," Conroy said. "She had so much more to give."
A medical examiner's report that Crawford shared with NBC News showed that Katz's cause of death was cardiac arrhythmia due to long QT syndrome. The report does not mention the beverage as a contributing factor but notes that she had no drugs in her system, other than what the hospital used to try to resuscitate her.
A potential risk to other populations
Caffeine can have health consequences for people beyond those with long QT syndrome and other heart disorders. Large amounts can also pose risks to people with other underlying conditions as well as to pregnant or breastfeeding individuals and to children, the Food and Drug Administration says.
According to Panera's website, the caffeine content of its charged lemonade ranges from 260 milligrams in the regular size to 390 milligrams in the large, 30-ounce size, while the caffeine content of its dark roast coffee ranges from 161 milligrams in a small to 268 milligrams in a large, which is 20 fluid ounces.
Panera's charged lemonade has attracted attention on social media. In December 2022, a customer who said she didn't know how caffeinated the drink was shared a viral TikTok of herself after consuming free refills of the mango yuzu charged lemonade and captioned the video, "this drink should come with a warning because it's delicious and will lead to my cardiac arrest."
On its website, Panera refers to its charged lemonades as "the ultimate energy drink," although the lawsuit alleges that it was not advertised as such in-store at the time of Katz's death. It is not clear how long that verbiage has been used on the restaurant chain's site.
"If you're going to market it that way and know it's energy drink, how can you not market it that way in the actual store?" Crawford said. "The reasonable consumer is not going to go onto the website to compare it to see whether or not there's any additional information."
Katz's parents, who declined to speak about the lawsuit, are desperate for people to understand exactly what is in Panera's charged lemonade before they buy it, Crawford said.
"That has become their most important thing, is making the public aware of these dangers to make sure that it doesn't happen to someone else," she said.