IRVING, Texas – A Dallas firefighter at a girls high school basketball game as a spectator became a lifesaver when one of the players went into cardiac arrest.
The student-athlete was a player on the team where Dallas Fire-Rescue Captain Kenneth Zacharie's wife is the girls varsity basketball coach.
Captain Zacharie's life is built around family and teamwork.
"My whole life playing sports, I was fortunate to come to this job," Capt. Zacharie said.
As captain of the Rapid Intervention Team his unit goes in when other firefighters and paramedics are in trouble.
The team theme runs through his family.
"Me and my wife, she's a coach, and we have three boys: 11, 10 and two years old," he explained.
On November 3, Zacharie was off duty and in the stands as the Irving Nimitz girls prepared to play Arlington Lamar.
"God put the right people in the right place at the right time. The reason why: I'm usually not on time for games. I usually get there in the first quarter, but that time I told my boys let's go and get there early. We got there for the warm-ups and that's when it happened," he explained.
One of the players on his wife's team collapsed on the floor and was unresponsive.
"[I] got to her, she appeared to have a seizure, had aspirations, and then it took a turn for the worse where she started breathing one time every 10 seconds," said Zacharie.
Bryant Ghrist, the Arlington Lamar athletic trainer, brought an automated external defibrillator (AED) to the floor.
The pair shocked the girl three times and did compressions.
By then, an Arlington EMS supervisor showed up with what's called a LIFEPACK.
"Which is an AED on steroids, and that's when we had strong rhythm, strong pulse," said Zacharie.
The girl was transported Code 3 to Texas Health Arlington Memorial and later transferred to Cook Children's Fort Worth.
"I was hoping and praying at the same time that we get her back," said Zacharie. "The report today is she's doing fine, much better, almost clear to come back to school, but she is at home resting and recovering."
Captain Zacharie hopes everyone gets American Heart Association CPR training and every business has an AED in case you have to be part of a life-saving team.
"That's important because CPR and AEDs save lives and all of us can attest to that," he said.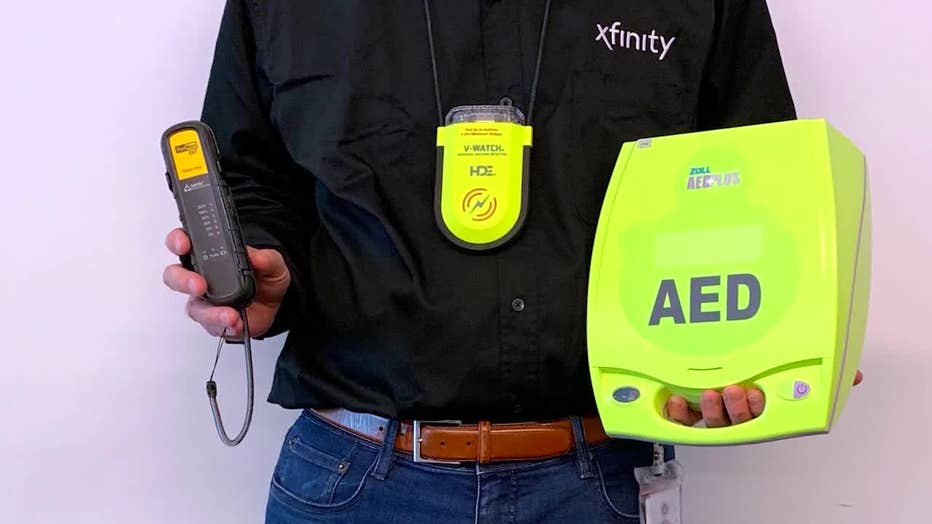 As you would expect Captain Zacharie is taking no credit, but rather calling it a team effort.
He credited administrators at Arlington Lamar, including the principal and volleyball coach.
Arlington EMS lieutenant Bryan Montay heard the call on the radio. It was not assigned to him, but he showed up anyway with the LIFEPACK, which confirmed the girl's heart was beating again.
Teamwork brought her back.