On Saturday, May 6, the Buffalo Bills hosted over 100 youth football coaches at the ADPRO Sports Training Center for their annual coaching clinic which included a CPR training by the American Heart Association.
In partnership with the American Heart Association, the Western New York Amateur Football Alliance (WNYAFA) and the Bills invited youth football coaches from across WNY to participate in fundamental demonstrations and coaching techniques.
The session included showing proper blocking and tackling techniques as well as flag football demonstrations performed by local youth flag football players. At the end, coaches participated in a CPR training course conducted by American Heart Association (AHA) CPR instructors.
In addition, Bills head athletic trainer Nate Breske visited with the participants prior to the CPR Course. Breske spoke about the role and responsibilities of an athletic trainer, the importance of having an emergency action plan that includes coaches and administrators trained in CPR and AED usage while at youth sporting events.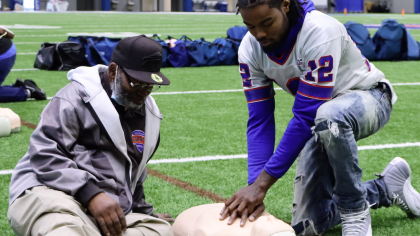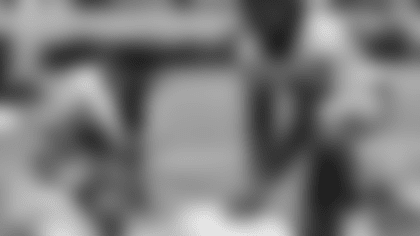 This year, the Bills and the AHA have teamed up to save lives through CPR.
There will be two large scale CPR trainings this June supported by Highmark Blue Cross Blue Shield of WNY. These community trainings are designed for all ages and will include Hands-Only CPR training and family friendly activities.
The first training will be June 3 at Highmark Stadium during National CPR + AED Awareness Week. The second training will be held on June 10 at Johnnie B Wiley Pavilion. The events are FREE to the public but do require tickets. Participants will select an available time for their scheduled training.
The Western New York Amateur Football Alliance is a 501-C-3 Not-For-Profit Organization whose mission is to open lines of communication with all Youth Football Leagues in the Western New York area in an effort to attain a safe environment of fair play and sportsmanship, while encouraging athletic endeavors to promote the physical, mental, and moral development of children.